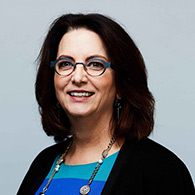 Cathy O'Shia, CFSP
Board Member
Vice President, Foodservice Sales
New Age Industrial Corp.
Cathy is a 38-year industry veteran and is vice president, foodservice sales at New Age Industrial Corp. Currently, she serves on the Trade Show Advisory Council for The NAFEM Show 2021, as well as on the NAFEM/MAFSI Liaison Committees. She has also participated on the Annual Meeting & Management Workshop Committee and is serving her second term on NAFEM's board of directors.