July 22, 2022
Member Spotlight
Urschel Laboratories, Inc.
Member since: 2022
Industry: Food Preparation Equipment
Website: www.urschel.com
When and how did your business get started?
Urschel was founded in 1910 in Valparaiso, Ind., by. inventor William Urschel, with the invention of the Gooseberry Snipper. This machine removed the stems and blossoms of the then popular berry. He first approached farmers in the Midwest, then found a strong market with Michigan canners. One snipper could do the work of 100 workers. Urschel's keen mechanical mind led him to create many more food reduction machines. He pioneered operating principles that have paved the way for today's food cutting solutions and was successfully awarded over 80 patents.
What do you love most about the foodservice E&S industry?
The ongoing ingenuity involved. All of the puzzle pieces need to fit in order to successfully develop, introduce and continue to deliver a quality product to consumers. The changing market and developing new ways of cutting allows Urschel to partner with customers to deliver high quality products with profit savings to help them succeed.
What do you find most challenging about the foodservice E&S industry?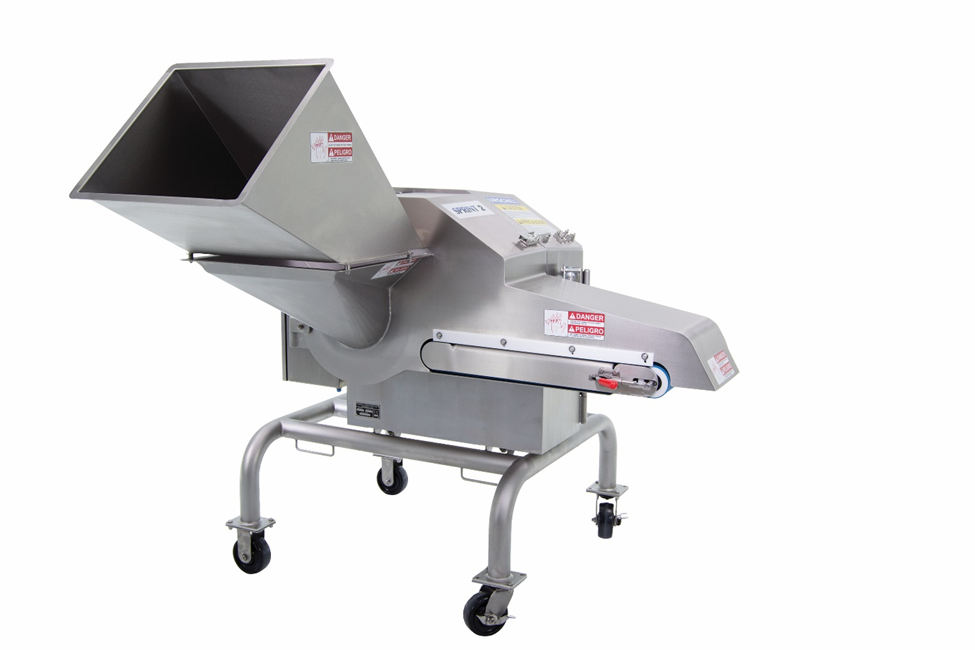 The ongoing ingenuity can also be the most challenging. For example, finding just the right temperature to effectively process/reduce a new product in development can be a challenge. Analyzing product cut to profit ratio to hone in on the right approach, along with the early stages of development can be the most challenging and present the most headaches. Getting through this initial, crucial time paves the way to achieving future success and smooth-running production and delivery.
---
"The ongoing ingenuity is what we love most about the foodservice E&S industry. All of the puzzle pieces need to fit in order to successfully develop, introduce and continue to deliver a quality product to consumers."
---
How have industry trends impacted the evolution of your business?
As new products have been developed, leading companies have relied (and continue to rely) on Urschel for optimized food cutting solutions.
How would you like to see the foodservice E&S industry, or your specific product category, evolve?
Already, we see a growing trend of sustainability, waste reduction and time efficiencies. We would like to see this trend continue to expand. Incorporating sustainability practices benefits everyone. Related to time efficiencies, Urschel delivers precision, high-capacity output to keep up with fast-paced lines. Our company also continues to work on efficiencies incorporating the newest cell manufacturing technology to decrease the amount of time needed in production.
What's the strangest or most challenging request you've received from a customer?
In recent years, the most challenging request relates to alternative proteins. These come in many shapes, sizes and textures and customer requests range from small cuts to shreds and others.
As a new member, what are you hoping to gain by joining NAFEM?
We are hoping to gain contacts and insights in order to continue to effectively partner with the everchanging food industry.
Is your business involved in any philanthropic efforts that you would like to share?
Urschel philanthropy remains far reaching. We support many local community and food association outreach programs. Active in supporting local community educational, cultural, and vital initiatives, the Urschel-employee-led Philanthropic Committee review community giving on a rolling basis. Employees also devote their time. Service includes but is not limited to: Opportunity Enterprises, PNW Sinai Forum, Local YMCAs, Hill Top House, Valparaiso & Duneland Parks Departments, Duneland & Valparaiso Chambers of Commerce, area community schools, United Way, UW Day of Caring, Habitat for Humanity and CASA Ride.
Describe something about your business that you're proud of. This could be an innovative product/part/technique, a unique facet of your company culture, special achievements, etc.
We are proud of our longstanding history in the food processing industry dating back to 1910. Generations of the Urschel family have been paramount to the company's ongoing success. In 2015, President/CEO Patrick Urschel announced that a decision had been made to turn over ownership to the employees. Today, we stand over 500 employee-owners strong as we build on the inventive and innovative culture we have inherited. That is why Urschel quality remains so strong as our company works toward developing even more cutting solutions.
Please share any industry recognition that you have received.
Urschel has received a vast number of patents throughout its history. Improving upon and developing new cutting methods continues to be a priority.