May 2, 2022
NAFEM and our members fight hunger
Marianne Byrne, Team NAFEM
We just received the Spring 2022 Impact Report from Feeding America, and we're so glad NAFEM chose the organization for our social purpose outreach. After reading the report, we're more committed than ever to supporting hunger relief nationally and locally.
NAFEM got involved with Feeding America in February 2020, right before the pandemic swept across the world. The timing was ideal as tens of millions of people began feeling the economic impact on their jobs and livelihoods, thus turning to food banks in greater numbers.
The statistics are staggering:
In the U.S., 38 million people face hunger, including more than 12 million children who don't know where their next meal is coming from
In the wake of the pandemic, unemployment and food insecurity soared; more than 60 million people turned to food banks and community programs for help in 2020 alone
Many of the households experiencing food insecurity do not qualify for federal nutrition programs and visit local food banks for extra support
Millions of seniors face hunger and often have to make impossible choices like paying for groceries or medical care
Even though the effects of the pandemic seem to be diminishing, the ongoing impacts of inflation and supply chain issues mean the need is still acute. Elizabeth Marquardt, Sr. Director New Partnerships at Feeding America notes, "Demand for food assistance continues while pandemic-related benefit allotments for people are set to expire. Over the past six months, 55% of member food banks have reported their overall food donations are down. Without additional funding and federal commodities, food banks cannot be expected to meet this crisis and give communities the support they need."
According to the U.S. Department of Agriculture, grocery and supermarket prices were 8.5% higher in February 2022 vs. February 2021 and prices are expected to keep rising. The agency predicts grocery prices will increase between 3% and 4% this year, with the extent of inflation varying from product to product.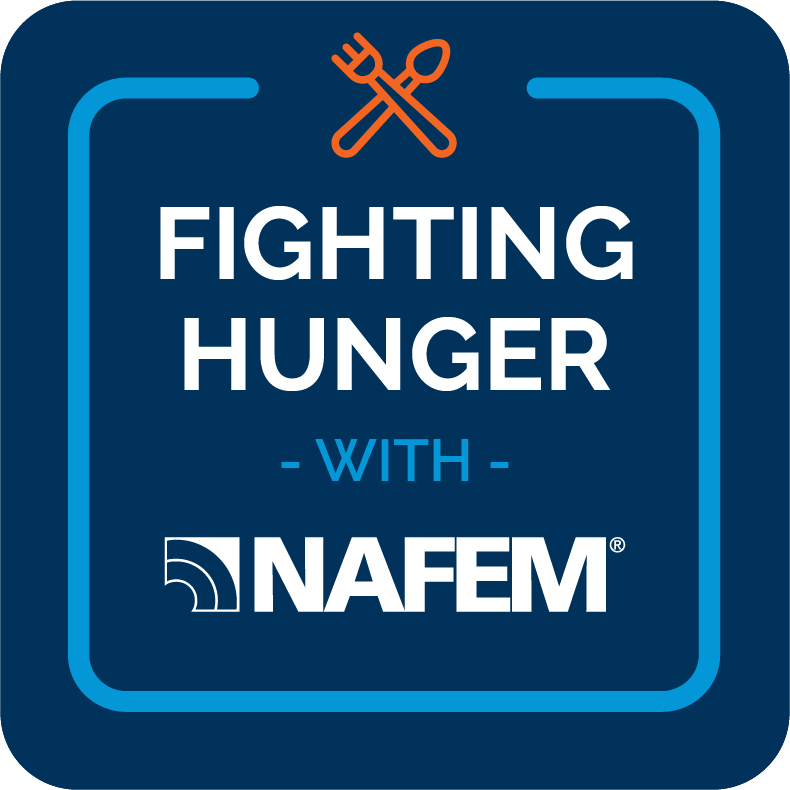 Given the continuing food insecurity across the country, NAFEM is donating $250,000 to the Feeding America network of 200 food banks and $30,000 to Meals on Wheels in 2022. Additionally, NAFEM matches your contributions, up to $100,000, when member companies and their associates support local Feeding America foodbanks with donations of food, funds and volunteer time.
Thanks to everyone who has joined us to help fight hunger so far in 2022. The need is great but we are making a difference. Since launching our social purpose initiative in 2020, NAFEM and its members have donated more than $1.9 million, or the equivalent of 19.8 million meals, to those facing hunger nationwide. If you've been thinking about volunteering in your local community, see how members are giving back. Our social purpose toolkit was designed to help you get started. We look forward to our continued success in 2022!