December 16, 2020
Member Spotlight
Crysalli Artisan Water Systems

When and how did your business get started?
Crysalli was founded in 2009. It started as a thesis report that founder Mike Palm did for his MBA. After a number of years in the beverage, water filtration and ice side of the business, Mike recognized that there was a gap in product offerings in the American marketplace for high quality on-tap sparkling and still water systems. From those inspired begins, Crysalli has innovated and grown into a full offering of on-tap beverage system solutions.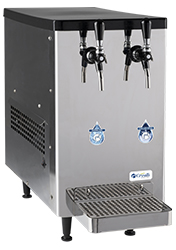 What do you love most about the foodservice E&S industry?
The innovative nature of operators looking to drive the next trend.
What do you find most challenging about the foodservice E&S industry?
Looking ahead to what the new normal will be during and after COVID.
How have industry trends impacted the evolution of your business?
We have a flexible and adaptable business model and product offerings. Industry trends have helped us move in a faster pace out of a single product category and into a wider breadth of products that meet the latest trend needs.
---
"The greatest challenge in our industry will be looking ahead to what the new normal will be during and after COVID."
---
How would you like to see the foodservice E&S industry, or your specific product category, evolve?
More emphasis on environmentally friendlier solutions and practices.
What's the strangest or most challenging request you've received from a customer?
We were asked to build an automated chilled still water dispenser based on the Manneken Pis fountain for their end-user customers to self-fill drinking cups from.
Describe something about your business that you're proud of. This could be an innovative product/part/technique, a unique facet of your company culture, special achievements, etc.
Our company culture is one of curiosity, innovation, and education. During the business disruption created by COVID, our company took the time to refine internal processes and develop sanitary levers and other non-touch technology to work with our products.
What would you describe as the most rewarding aspect of your NAFEM membership through the years?
Relationships with other manufactures and best practice seminars.
How many NAFEM Shows have you attended? Which one was your favorite and why?
Three, including being featured in What's Hot, What's Cool at The NAFEM Show 2017.