October 31, 2019
Member Spotlight
Worcester Industrial Products/The Shortening Shuttle®
Member since: 2012
Industry: Waste Oil Transport
Website: https://shortening-shuttle.net
When and how did your business get started?
The concept of The Shortening Shuttle® began with a man and his wife cleaning restaurants, which included removing excess cooking oil from fryers. They were continually burning themselves as they transported the waste hot oil. They knew there had to be a better way. So, in 1988, the inventor created a prototype in his garage, consulted with a local engineer and sold his first batch of products. After that, the design was refined, patented and trademarked—and Worcester Industrial Products Corporation was officially formed.
Since then, improvements have been made. Worcester Industrial Products continues to respond to customer's suggestions for upgrades in it's products. Models are added as well as an awareness for 'recycling' established. In fact, The Shortening Shuttle® is constructed from recycled materials and was designed to recycle waste product long before 'green' was even a concept.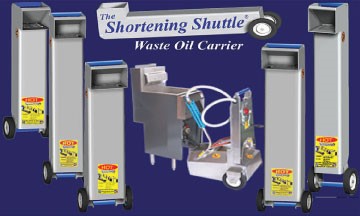 What do you love most about the foodservice E&S industry?
We love helping operators not only with the concept of recycling but also of keeping employees safe in the workplace as well as improving food quality. They turn to our products to help them resolve these important issues.
---
"People want 'one size fits all'. But for our product, fitting to each application results in the best customer satisfaction."
---
What do you find most challenging about the foodservice E&S industry?
Over the years, challengers have emerged creating 'knock offs' of our product with cost-cutting methods. Those knock offs, in almost every case, are made of inferior materials and altered designs which affect model integrity and operator safety. We commit to and are proud of our HIGH level of quality. In our experience, our customers would rather pay a bit more for quality than deal with the headaches of an inferior product.
How many NAFEM Shows have you attended? Which one was your favorite and why?
We have attended The NAFEM Show four times! Each show is 'unique', providing us with opportunities to connect with our dealers and their guests.