August 6, 2019
Member Spotlight
KitchAutomation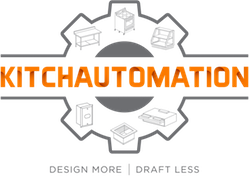 When and how did your business get started?
Founder Christopher Huebner began his foodservice career as an equipment dealer. However, it didn't take long before he started offering design services using his CAD knowledge, and within a few years even opening a consulting firm specializing in Revit. After 22 months of experimenting with automation scripts and how to simplify the design process, he sold his firm to focus on building a new set of tools that could automate foodservice design workflows. In 2017, Kitchautomation was born out of a desire to innovate foodservice design— and Huebner has been leading the way ever since.
What do you love most about the foodservice E&S industry?
The people and specifically the comradeship in the business is something we value as a company, as well as making a lasting connection to others in the industry.
---
"Design More – Draft Less"
---
What do you find most challenging about the foodservice E&S industry?
Without formal training, everyone has developed their own ways of doing things so the industry can be very spread out and unique, which can be difficult at times when trying to create more universal solutions.
What excites you about joining NAFEM?
We always look forward to attending The NAFEM Show, but exhibiting our company there was an incredible opportunity to gain exposure in the industry and connect with people who share similar goals.